The larp program of TLF will happen from Monday to Wednesday, from 30th of March to 1st of April. The larp program for the festival is curated by Simon James Pettitt.
There will be three game slots during a day, beginning at 9 am. The festival offers short 2–5-hour scenarios to both the international audiences of Solmukohta and related events, as well as to anyone wishing to participate even without attending Solmukohta. The scenarios are easy to approach and do not require any pre-preparation. We are offering everything from free form scenarios, to black box larps with sound and light effects, as well as simple chamber larps with a minimalistic feel.
TLF schedule
Below you will see the complete program for the Tampere Larp Festival and the other program for the week before Solmukohta. Click on the image to open the pdf file.
Please note that Edularp conference also needs a registration, which you can do here. Immersive experiences seminar registration information is findable through here.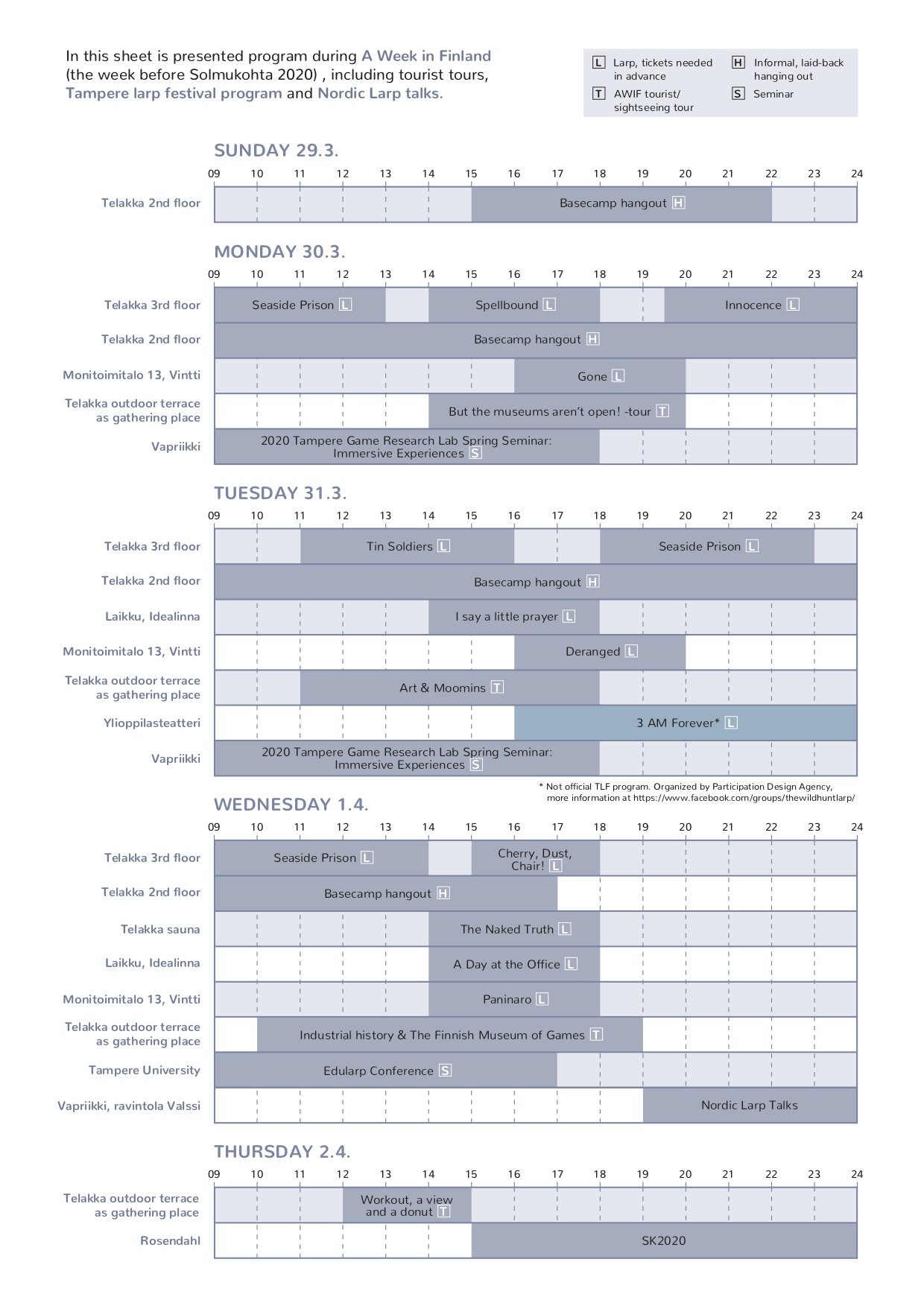 A Google Sheets version of the program can be accessed via this link
Larp locations
Teatteri Telakka, Telakka 3rd floor, Tullikamarin aukio 3, 33100 Tampere
Vintti, Monitoimitalo 13 top floor, Satakunnankatu 13, 33100 Tampere
Telakka 2nd floor sauna, Tullikamarin aukio 3, 33100 Tampere
Idealinna, Kulttuuritalo Laikku 4th floor, Keskustori 4, 33100 Tampere
Tickets
Tickets to each of the TLF larps are 5 €. You can purchase them from the Holvi webshop.
We do not offer any refunds for the tickets but you can resell or gift your ticket in case you cannot make it yourself. When arriving at the larp venue, have a copy of your ticket at hand to show the game runner.
Please note! The Wild Hunt: 3 AM Forever is organized by Participant Design Agency, more information about the larp on their facebook group. Tickets and signup not through Holvi.
Larp program