The Tampere Larp Festival, or TLF for short, is an emerging larp festival organized for Solmukohta 2020, from 29th of March to 2nd of April in Tampere, Finland (larp program starts on 30th). The Festival offers easily approachable larping experiences to Finnish and international visitors. The larps will not require any preparation from the players apart from signing up for the game.
The larp program will consist of a small selection of Finnish and international mini larps. The selection will be curated by Simon James Pettitt. Simon is an experienced larp organizer and larpwright. He has authored over 15 minilarps that have been played in Danish roleplaying events like Fastaval and Black Box Copenhagen. Simon is also the founder of Danish theatre and larp festival Black Box Horsens.
In addition to the larp program the Festival will include other larp related events as well social activities to allow you to get to know the lovely city of Tampere and your fellow Solmukohta visitors:
Do also check out the Immersive Experiences, the 2020 Tampere Game Research Lab Spring Seminar from Monday to Tuesday. The seminar is organised by Tampere University.
Location
The base camp for the Festival will be at culture center Telakka (Kulttuuritalo Telakka) where you are welcome to come to just hangout and meet people.
The first floor is a restaurant/bar that is open to the public. The second floor is reserved only for TLF hangout and is not open to the public. The third floor houses Teatteri Telakka which will be a venue for some of TLF mini larp programme. The upper floors are unfortunately not wheelchair accessible.
Address
Kulttuuritalo Telakka
Tullikamarin aukio 3
33100 Tampere, Finland
Opening hours for the downstairs restaurant are:
Monday–Tuesday 11:00–00:00
Wednesday–Thursday 11:00–01:00
Friday 11:00–03:00
Saturday 12:00–03:00
Sunday 13:00–23:00
Program
Below you will see the complete program for the Tampere Larp Festival and the other program for the week before Solmukohta 2020. Click on the image to open the pdf file.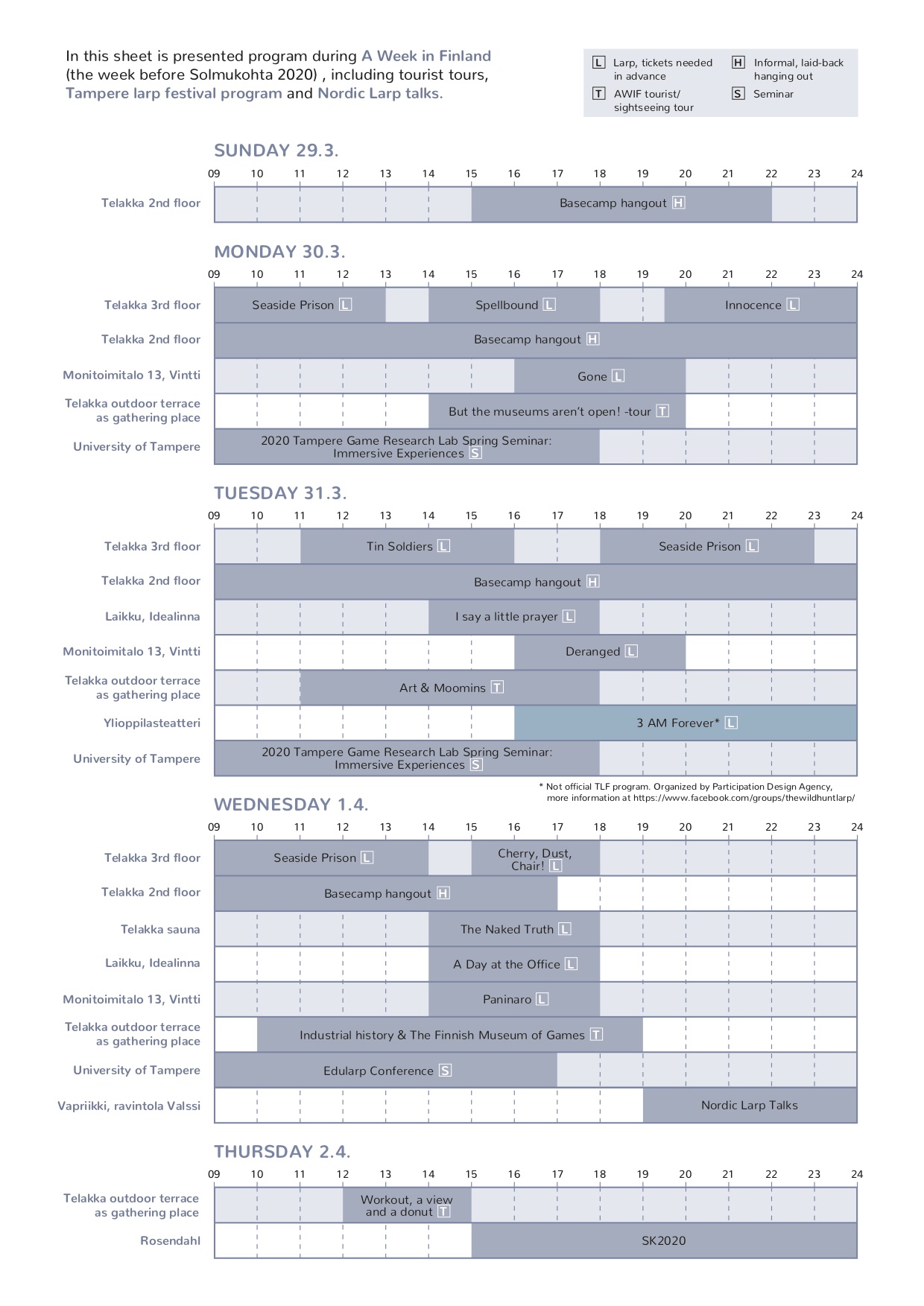 A Google Sheets version of the program can be accessed via this link
For the descriptions of all the larps go to the Larp program page.