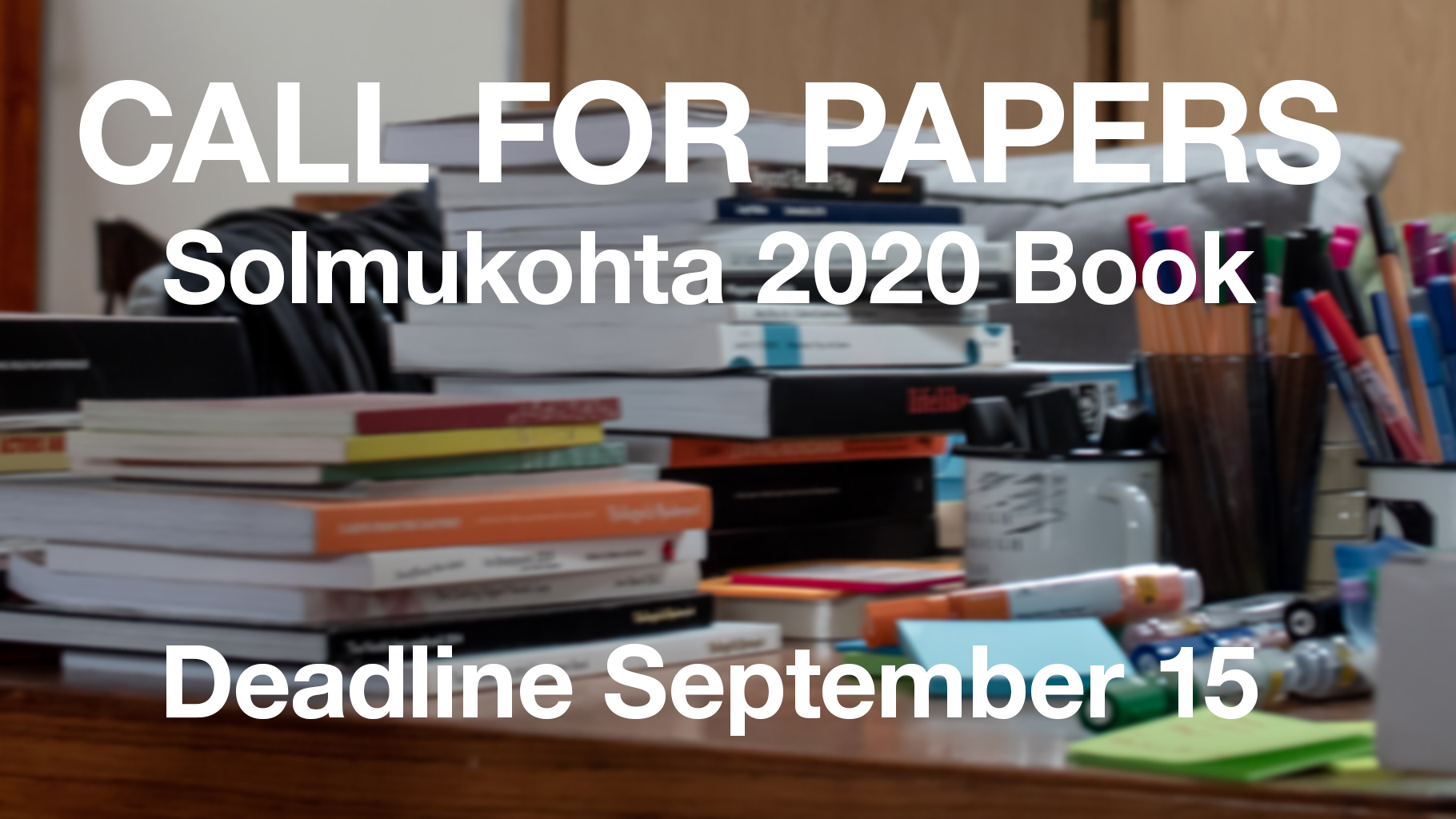 The Solmukohta 2020 book will be focused on exploring what we do when we play together. We'll dig into the skills players have as individuals, those ensembles of players or a larp community as a whole may have, and how we use all of those skills. This can mean everything from how a player maps out a larp in their head to how they read the possible meanings of a costume choice, how an ensemble trades the spotlight back and forth, or how a community works to balance the needs of different groups of participants. Skills are interesting because they're things we can learn to be better at, but we'll also need to understand other types of behavior to build a full picture.
While the Nordic tradition has spent a long time exploring larp design and analysis, looking at how we play means opening up new territory. It took us twenty years to get to the point where we could speak definitively about larp design. We expect this process to be faster because we have so much to build on, but this will be a book of description, of questions, of disagreement, and of searching for shared language on which to build.
Making solid foundations for future work means working with rigor, and filling in the map for that work means looking both for breadth among the topics we cover and variety in the kinds of pieces we include. We know that because much of this material is new we may not understand it well enough to make it as simple as we will eventually, but we want to make the book as accessible as possible. To the extent we can, we want to reach toward practical, every-day tools or descriptive concepts that improve how we play — steering is a perfect example of this.
Who We're Looking For
We're interested in pieces from people who play Nordic larps. You don't need academic credentials or to have previously published larp theory. We can and will help you with language, with structuring your piece, and with figuring out how to express the core of your ideas. If you do have an academic or theory background, we want you writing too, but we want your work be rooted in observation and description where possible.
What We're Looking For
There are four kinds of contributions we're interested in for the book:
1: Long Papers
Long papers will be the backbone of the book. They should explore a complex area in breadth while still going deep enough that we can learn new things. We're looking for pieces between 3,000 and 6,000 words.
2: Practical Tools
Submissions of practical tools describe concrete techniques players can use immediately, including examples. They should be between 600 and 900 words long.
3: Play Narratives
A play narrative is a short story — 300 words tops — that demonstrates a player skill, decision processes, strategy, trade-off, etc. We're not looking for your really cool character story (although it's ok if they are cool); rather, we're interested in situations where you as a player learned something about larping or that are particularly illustrative examples of a thing you've learned.
4: Heuristics
A heuristic is a shortcut for making decisions that you personally use in larps to get an experience that's a good fit for your play goals. For example, in a Vampire-style game, a player might always leave the room when a council is being formed because they don't find that play interesting. Here we want just the rule you use and what it does for you, not the stories around it. We'd love to gather a bunch of these, but shortcuts are short — no more than 280 characters, including spaces and punctuation.
Topics for Inspiration
For a list of specific topics we think probably have something interesting in them around what we do when we play, see this post.
Audience
Our intended audience for this book is players and designers of larps in the Nordic countries and the Nordic community — regardless of whether the existing theory focused on design and analysis has spoken to them. We're happy if folks in non-larp disciplines find our work useful, but they're not our audience.
While we're focused on how the Nordic community plays, we think our descriptive approach will allow players from outside the community to see if these tools and descriptions work for them. That said, we will work on the basis of things we see as true within our community and our larps, and we accept that they may not work outside of our audience. However, we will take care to think about our work in ways that reflect the diversity of backgrounds and lives of Nordic players.
Where to Ask Questions or Talk About Ideas
If you've got specific questions on your piece, you can email book@solmukohta.eu. If you'd like to bounce ideas off of folks, see how people are thinking about things, see documentation from the retreat we held on this subject in May, or have questions that are relevant for a larger group, the Facebook group Nordic Player Skills is where that conversation lives.
Process and Deadlines
For long papers, practical tools, and play narratives, please send an abstract to book@solmukohta.eu, as follows:
Long papers: 100-300 words
Practical tools: 50-150 words
Play experiences: no more than 75 words
Please submit as soon as possible; you'll help us keep the book on schedule if you submit earlier, and you'll also have more time to write. The deadline for submissions will be September 15th, and if you submit your work before then, it's more likely it will be accepted. Depending on response, it is likely we will accept a second round of submissions until October 1st, but that's not guaranteed.
For heuristics, mail them to book@solmukohta.eu any time before November 1st; we'll take an edit pass on them and get back to you if you're ok with the changes, and work on them entirely via email.
We may ask for more information or suggest some changes before accepting a piece. For the first round, we'll try to have final acceptances or rejections out by September 20th; if we do a second round, we'll aim for October 5th.
We will work on papers in Google Drive; we'll send you a link to a document to work in and a style and language guide with your acceptance. Deadlines will be rolling depending on when your piece was accepted (because it helps us balance our workload), but all first drafts will be due no later than November 15th. We expect almost all pieces to go through at least two and possibly three drafts before publication. For all of the longer pieces, you'll receive feedback from multiple people, but whenever possible, we'll make sure that we've cross-checked our feedback before we send it to you, and we'll try to have one person shepherd your piece through the entire process.
Because we're covering new ground, we'd love it if you were up for working in public a bit — feel free to use the Facebook group as a place where you can work through your ideas with a specifically interested group of your peers.
What We Aren't Looking For
If your work is focused on larp design or the analysis of design, this isn't the year for it, unless you're specifically looking at how we can incorporate some of this new thinking on how we play from a design perspective — and even then, it may be better to let it mature for a year while we figure out if we're on the right track.
If your work is focused on reframing larp within the context of another discipline as an interesting example in that context, it's not a good fit — we want work that centers the needs of larp as a medium.
If you've got a grand theory and a hammer and you're going to pound all of larp into a shape that fits that theory, we'd invite you to go back and work from observation forward again and to think about smaller ideas that don't try to solve everything at once, because we find it works better.